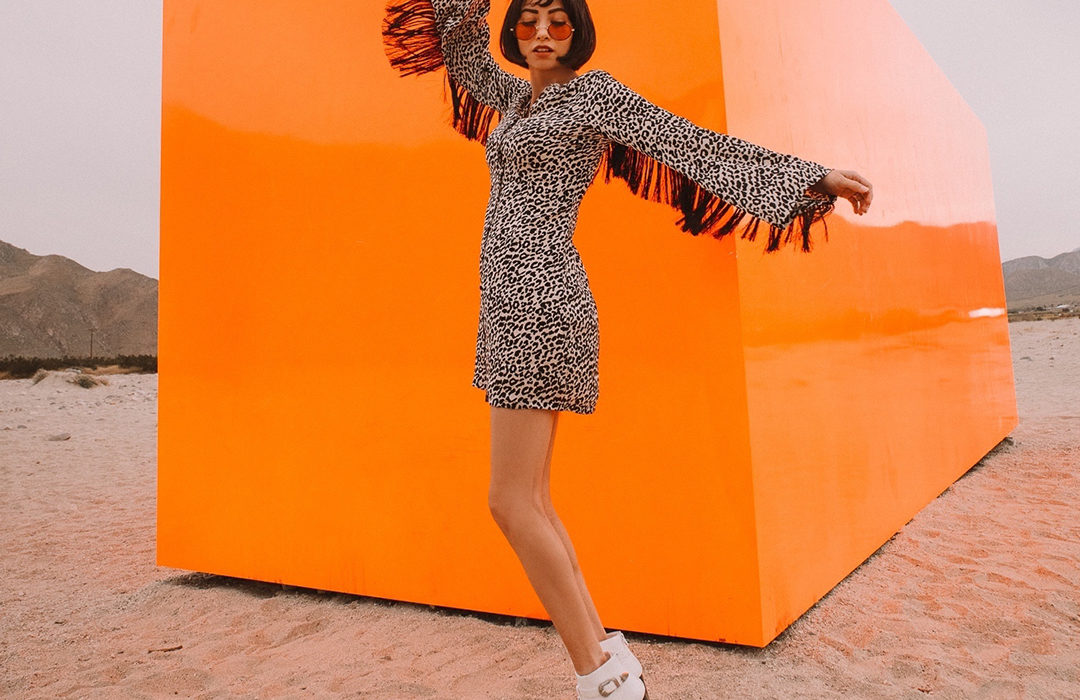 Coachella war gestern! Oder genauer genommen, im April. Neben der berühmten kalifornischen (Promi)-Parade jagt bei Anbruch des Sommers ein cooles Festival das Nächste. Vom brennenden Burning Man, über das funkende Lollapalooza bis hin zum tiefschwarzen Wacken – der Vielfalt nicht nur musikalisch, sondern auch stilistisch keine Grenzen gesetzt. Zur Vorbereitung auf das große Bühnenspringen haben wir unsere Top Trends der Festival Fashion für euch zusammengestellt. 
1. What's up, Cowgirl Girl?
Nicht nur auf dem Laufsteg lockt der Cowboy-Boot, auch auf den grünen Wiesen des Festivalgeländes wird der rustikale Stiefel gern gesehen. Musikerin, Model und Birkin-Tochter Lou Doillon trägt den lässigen Western-Style gekonnt mit weißem Cowboy-Hut, seidenem Kaftan und reichlich Schmuck. Kleine Info am Rande: Nach dem Auftritt von Kendall Jenner auf dem diesjährigen Coachella, sei die Nachfrage nach weißen Cowboy-Boots innerhalb der ersten 24 Stunden des Festivals um über 210 Prozent gestiegen. Verrückte Modewelt! 
---
2. Neon Is The New Black
Ob Orange oder Pink, Hauptsache es knallt! Neon liebt es im Mittelpunkt zu stehen und erlaubt keine Nebenspieler auf dem Modespielfeld. Am Besten funktioniert der Farbrausch übrigens im Allover-Look. Unteranderem gesehen bei der britischen Influencerin Alicia Roddy, die Neon als Cargo-Dress und Denim-Two-Piece trägt. Dazu die passenden Sneaker und gleichfarbigen Strümpfe und nichts wie los vor die Bühne. Nicht wundern, wenn die Band plötzlich nur Augen für euch hat und den Text vergisst! 
---
3. Animal Statt Minimal
Wer steht mehr für den kalifornischen Rockstar-Look als Influencerin und Designerin Anine Bing? Die gebürtige Dänin präsentiert im 3-Monats-Rhythmus stylische Logo- Shirts und Animal Looks – perfekt für den nächsten Festival Besuch. Aber auch Models wie Jacquelyn Jablonski wagen sich ans Tier und tragen den Animal Style plakativ als Mantel. Am besten funktioniert der tierische Look am besten im Bruch zu Bandshirts und der klassischen Denim – aber nur als Print oder Fake Fur, versteht sich! 
---
4. All White
Es wird romantisch! Für diesem Style gehen wir gerne in die Knie und halten um ihre Hand an. Die langen Walla-Walla-Kleider erinnern an den 68er Spirit der Woodstock Generation und vermitteln ein Gefühl von: "Love is in the air". Wer es weniger zart und feminin mag, trägt den White-Look als sexy Variante mit weißem Top, transparentem Spitzenrock und weißen Sneakern. Mit diesen Einblicken stehlen sie so manchen musikalischem Act die Show. 
---
5. Arty Party Pattern
Aufgepasst! Bei diesen Mustern müssen wir gleich zweimal hinsehen. Denn diese Prints täuschen unsere Sinne. Model und Stilikone Dree Hemingway stimmt sogar ihre Haarfarbe auf den wilden Mustermix ab! Liebe Burning Man-Freunde, erspart euch doch einfach den LSD-Trip und greift lieber zu Op-Art-Prints – Fashion Trip inklusive! 
Headerbild: Victor Duran