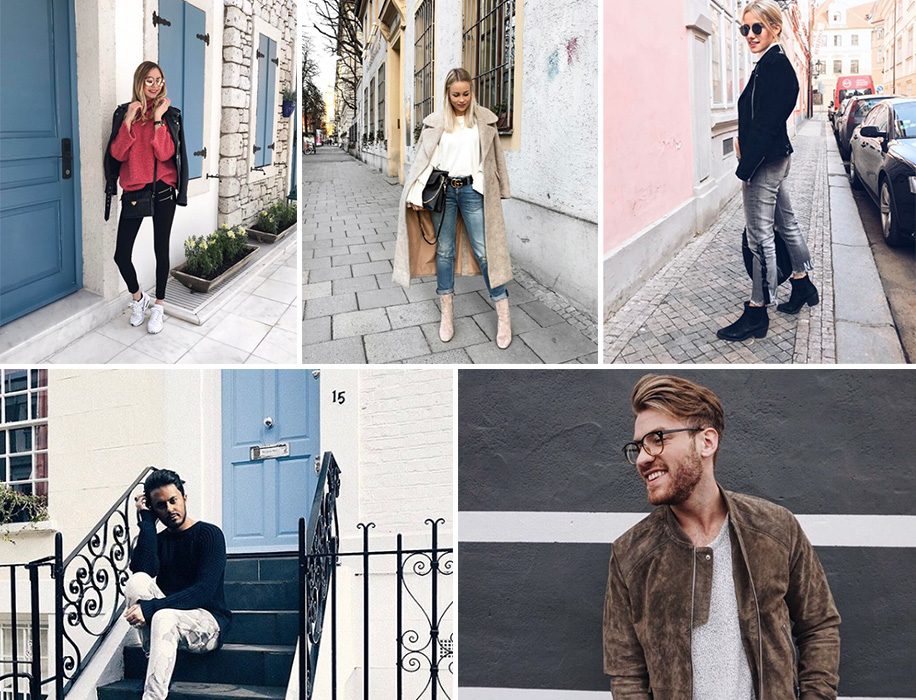 Diese Woche geht 'The Clique' wieder auf Reisen! Wohin wir Euch dieses Mal entführen, haben wir Euch bereits am Dienstag verraten. Und natürlich fliegen wir – wie immer – in stilvoller Begleitung: Das sind unsere Top #5.
René Gärtling / @renegaert
Grau, so scheint es, ist Renés Lieblingsfarbe. Zumindest taucht sie regelmäßig im Instagram Feed des 24-jährigen auf. Sein Lifestyle ist dafür umso bunter. "Ich möchte mich intensiv mit den Themen beschäftigen, die mich täglich begleiten und begeistern. Fashion & Lifestyle ist nicht nur ein Thema für die Mädels, definitiv nicht!", sagt René, der, wenn er nicht gerade bloggt, als Mediengestalter tätig ist. Wir freuen uns, gemeinsam mit ihm und seinen 60K-Followern nach Florenz zu fliegen.
---
Dana / @howimetmyoutfit
Sie ist en echte Kölsche Mädche. Das ist alles, was wir wissen. Denn Dana's About-Info hält sich ziemlich bedeckt. Auf ihrem Blog How I met my Outfit stellt sie sich mit den knappen Worten "Hi, I'm Dana from Cologne, Germany and this is my personal style & lifestyle blog" vor. Mehr müssen wir ehrlich gesagt aber auch nicht wissen, um zu verstehen, was Dana eigentlich gefällt. Allen voran die vier F's: Fashion, Friends, Food und Fitness. Aber auch Reisen steht bei Dana ganz oben. Ein Glück! Denn wir können es kaum erwarten, mit ihr in den Flieger zu steigen.
---
Julia Mosig / @stylingliebe
Aus Servus wird Ciao! Denn für Julia 'Julchen' Mosig geht es von München aus mit uns ins schöne Italien. Für ihren 2014 gegründeten Blog stylingliebe.de lebt sie nach Rachel Zoe's Credo "Style is a way to say who you are without having to speak" und inspiriert mit ihren schlichten und doch catchy Outfits bis dato knapp 80.000 Follower. Süße Randnotiz: Ihr Mann oder, wie sie ihn nennt, Mister Stylingliebe, spielt auch beruflich eine große Rolle in ihrem Leben. Denn er ist sowohl für den Blognamen als auch für die Fotos der hübschen Blondine verantwortlich.
---
Dani / @daninanaa
Gerade zurück aus Nizza, geht es für Dani mit The Clique Suite auch schon gleich weiter nach Florenz. Für die leidenschaftliche Travel- und Lifestyle-Bloggerin aber kein Problem. Und im Gegensatz zu Dana, erfahren wir sehr viel über Dani: Genauer gesagt ganze 20 Fakten. Zum Beispiel, dass die gebürtige Hamburgerin früher alle vier Monate ihre Haarfarbe wechselte, weil ihr schnell langweilig wurde. Etwas, dass ihr in Florenz sicherlich nicht passieren wird.
---
Ravi Walia / @raviwalia
Einer unser treuesten Clique-Mitglieder: Ravi Walia. Der 25-jährige Düsseldorfer hat für den ZDF erst vor kurzem ein Interview über das Blogger-Dasein gegeben, immerhin kennt er sich als PR- und Social Media Manager mehr als gut in diesem Business aus. Auf seinem gleichnamigen Blog raviwalia.com postet er neben seinem Beruf regelmäßig über Mode, Lifestyle, Beauty, Interior, Travel und Pop Kultur. Letzteres ist sogar buchstäblich zu nehmen, denn Ravi traf sich unter anderem mit Britney Spears und Jojo. #kreisch