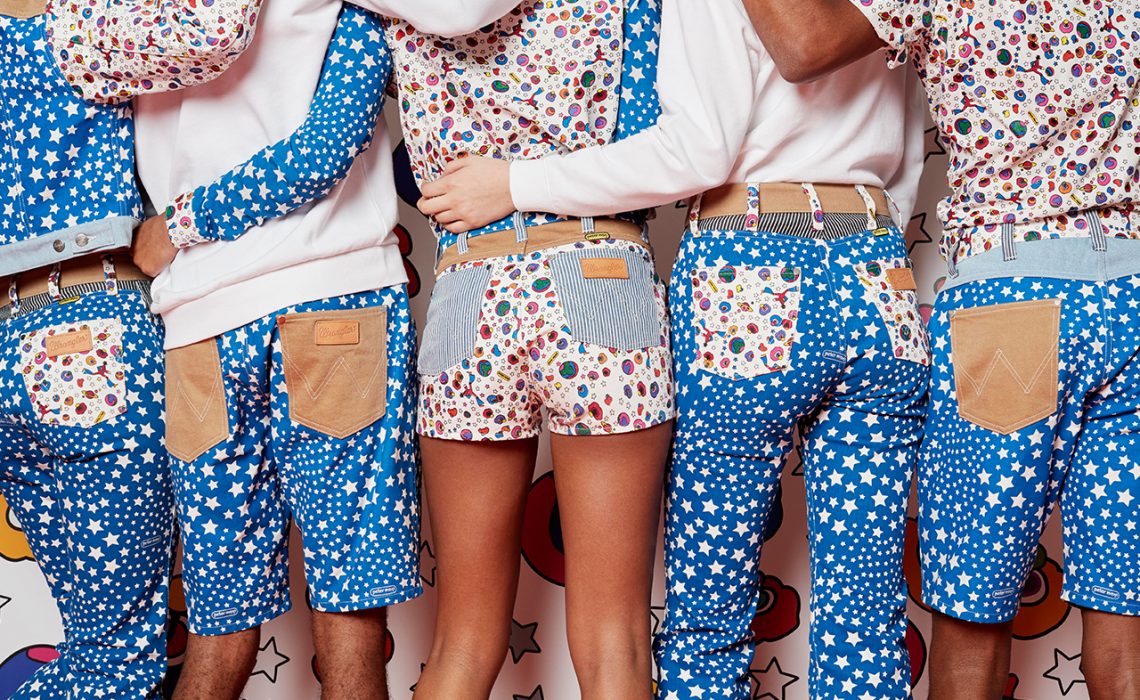 Die 70-Jahr-Feier von Wrangler wurde im letzten Jahr bereits mit zwei Kollektion gefeiert und findet nun zum Frühjahr/Sommer 2018 ihren gebührenden Abschluss mit ihrer nunmehr letzten Kollaboration mit der Pop-Art-Legende Peter Max. Dürfen wir vorstellen: der letzte Drop der Wrangler by Peter Max-Kollektion.
DIE WILDEN SIEBZIGER
"Hippie-Looks im psychedelisch wirkenden Design" – so wurde zumindest damals die allererste Zusammenarbeit zwischen Wrangler und Peter Max in den 70er Jahren beschrieben. Ein paar Jahrzehnte später ist der Pop-Art-Künstler eine Ikone und die Marke Kult. Die Jeanshosen, Westernjacken und Shirts der Frühjahr/Sommer-Kollektion 2018 wurden von Klassikern aus dem Archiv inspiriert, mit einem modernen Update versehen und in Europa produziert. Die Hosen der Männer- und Frauenkollektion kommen im Straight-Cut-Look mit weitem Bein und erinnern uns einmal mehr an die wilden 70er. Was hier natürlich nicht fehlen darf, ist das originale 'W', welches aus die hinteren Taschen der Hosen gestickt wird.
THE SKY IS THE LIMIT
Asymmetrische Schnitte, Colourblocking, Patchwork-Styles sowie Denimwaschungen von faded blue über dark khaki bis hinzu chalky pink verleihen der Kollektion etwas nostalgisch Interessantes. Aber es sind Peter Max' kosmische Prints der Sternen- und Sonnensysteme, welche die Kollektion so außergewöhnlich und unkonventionell wirken lassen. Planeten, Ufos und Sterne in poppig bunten Farben entführen uns dabei in eine andere, vielleicht nicht ganz so ernste Welt und zeigen uns, dass es bei dem Kombinieren dieser lebhaften Kollektion keine Grenzen gibt.
Die Kollektion von einem anderen Stern ist ab Februar auf wrangler.de erhältlich.
MerkenMerken