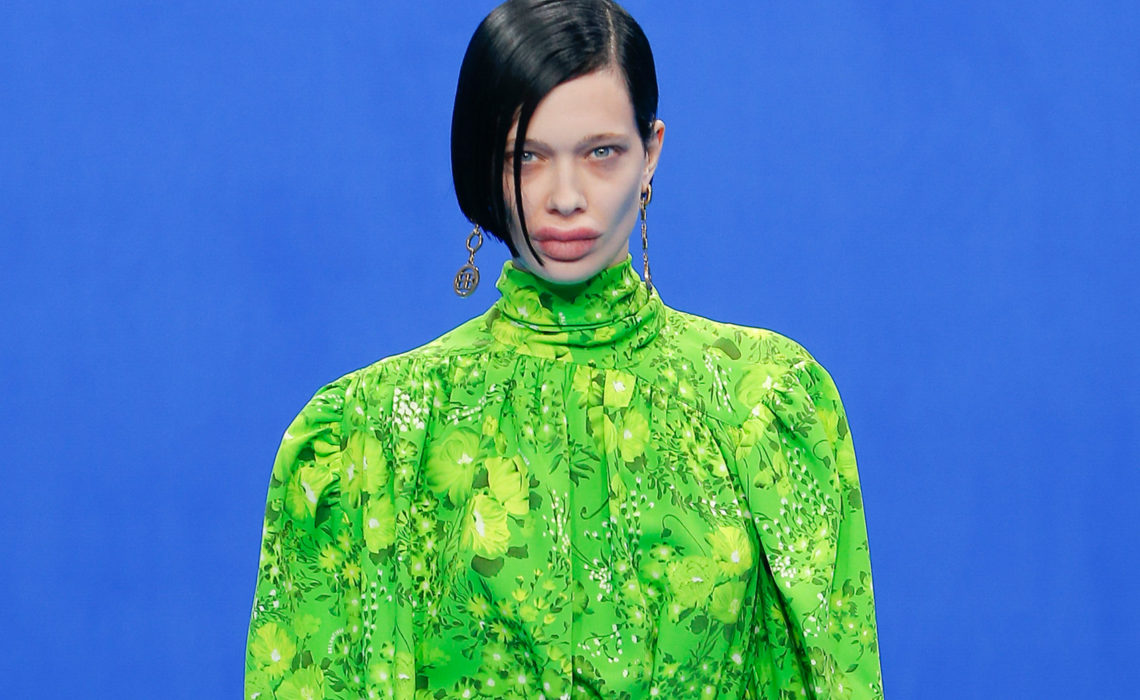 Nur noch wenige Tage bis zum gruseligsten Fest des Jahres. Manch eine scheint sich in diesem Jahr für Halloween jedoch nicht mehr verkleiden zu müssen. Zu skurril, zu grotesk das aktuelle Schönheitsideal, das Natürlichkeit vergisst und neue Maße definiert. Lip Filler, Wangenimplantate, Straffungen – nichts scheint mehr dort, wo es einst war. Und wäre unsere Nase nicht festgewachsen, würden wir sie vielleicht bald auf der Stirn wiederfinden. Wer weiß das schon? Während der aktuellen Pariser Modewoche präsentierte Balenciaga nun unter Chefdesigner Demna Gvasalia Prothesen auf dem Laufsteg. Das Gesicht ad absurdum. 
Face it!
Eine der wohl meist diskutiertest Schauen während der französischen Fashion Week. Nicht etwa (nur) aufgrund der neuen Kollektion, in der der ehemalige Vetements Designer mit kraftvollem Power Dressing sein Kreativtalent unter Beweis stellte, sondern für eine Inszenierung von Hair & Make-up, die in der Mode ihresgleichen fand. Extrem kantige Wangenknochen sowie überstaffierte Lippenformen prägten die neue Ästhetik der Balenciaga Kollektion. Eine realistische, wenn auch groteske Darbietung des heutigen Schönheitsstandards, der an ebenso außergewöhnlichen Modellen wie Ingenieurinnen, Architektinnen und Musikerinnen präsentiert wurde. Darunter Models wie Schwedin Elsa Sjökvist oder Französin Maud Escudié, die gar nicht glauben konnten, was sie dort im Spiegel sahen und ihr neues kantiges Ich auf Instagram posteten. 
Cinema meets Fashion
Für die beinahe schon filmreife Darbietung der Show holte sich Balenciagas Make-up-Artistin Inge Grognard Verstärkung aus der Maskenbildnerei. Mit keinem Geringerem als Alexis Kinebanyan gestaltete ein Profi in seinem Element die Gesichter des Castings. Bekannt durch Filme wie 'Die Bourne Identität' oder 'The Transporter' wandte der Make-up-Artist nun sein Geschick an filigranen Frauengesichtern statt durchtrainierten Actionhelden an. Ein Genren-Wechsel der Eindruck macht. Kein anderer Look wurde derart diskutiert wie der von Balenciaga. 
Und die Moral von der Geschicht'? Was steckt wirklich hinter der Absurdität der Gesichtsprothesen und Lippenpolster? Von Seiten Balenciaga hieß es: "Play on beauty standards of today, the past, and the future." Wenn man so will, eine ganzheitliche Darstellung aktueller, überhöhter Schönheitsideale. Und damit eine Gesellschaftskritik, die man so selten auf dem Laufsteg wiederfindet. Chapeau!
Foto: Imaxtree, Balenciaga FS20