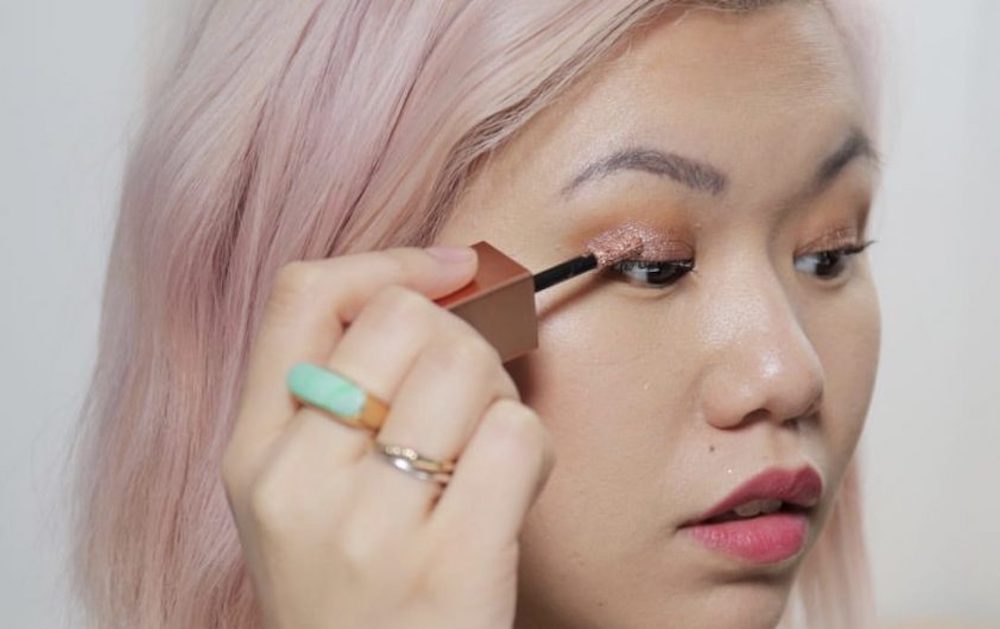 Durch den Gleichstrom der Influencer scheint auch in der Beautywelt wenig Spielraum für Experimente zu sein. Irgendwo zwischen 'matte' und 'dewy' bewegen wir uns auf einem schmalen Grat, der zwar Platz für Schattierungen lässt, doch häufig Farbexperiment und Extravaganz ausklammert. Umso erfrischender erscheinen uns jene Damen, die den Farbtopf wieder selbst in die Hand nehmen und ihr Gesicht stilsicher als Leinwand umfunktionieren. Einen Gegenentwurf zur 08/15-Generation liefert nun eine Beauty Redakteurin aus Brooklyn: Mi-Anne Chan.
Who's that beauty?
Türkisfarbenes Haar, ein orangener Batik-Hoodie zum grün karierten Plisseerock und weiße Dad Sneaker. Mi-Anne Chan ist alles andere als eintönig. Mit ihrem Äußeren begibt sich die Beauty-Expertin auf spannendes Terrain. Bunt statt schrill, charakteristisch statt überzeichnet – und das Ganze mit einer gewissen Leichtig- und Natürlichkeit. Seit geraumer Zeit ist die US-Amerikanerin für das Onlinemedium Refinery29 tätig. Mit ihrer eigenen Videoreihe 'Beauty with Mi' , in der sie regelmäßig bizarre Beauty Trends erkundet, begründete die Make-up Heldin einen regelrechten Hype um ihre Person. Von Themen wie umweltfreundliche Produktverpackungen bis hin zur Grundierung für alle Hautfarben behandelt Mi sämtliche Facetten rund um nachhaltigen und bewussten Lebensstil.
Nehmt euch doch nicht so ernst
Make-up soll Spaß machen und das sieht man ihr deutlich an. Schließlich gibt es so viele Dinge im Leben, die es uns schwer machen – Kosmetik sollte nicht darunter zählen und Möglichkeiten zum Experimentieren gibt es zu Genüge. Neben der dekorativen Kosmetik spielt aber auch die Hautpflege eine zentrale Rolle in Mis Video-Portfolio. Mit 18 Jahren kam die Amerikanerin mit dem Thema Teenager-Akne in Berührung und stieß auf YouTuber wie Ingrid Nilsen, Michelle Phan und Tanya Burr. Schnell identifizierte sie sich mit der Online Community und lässt dabei eigene Inspirationen und künstlerische Züge einfließen.
Bewusste Akzente statt Maskerade – um mit Stil zu punkten, ist häufig nicht nur der perfekte Concealer, sondern starke Ideen und ein bisschen Wagemut gefragt. Kein Wunder also, dass Mi-Anne mit ihrem Stil so viele Frauen begeistert.