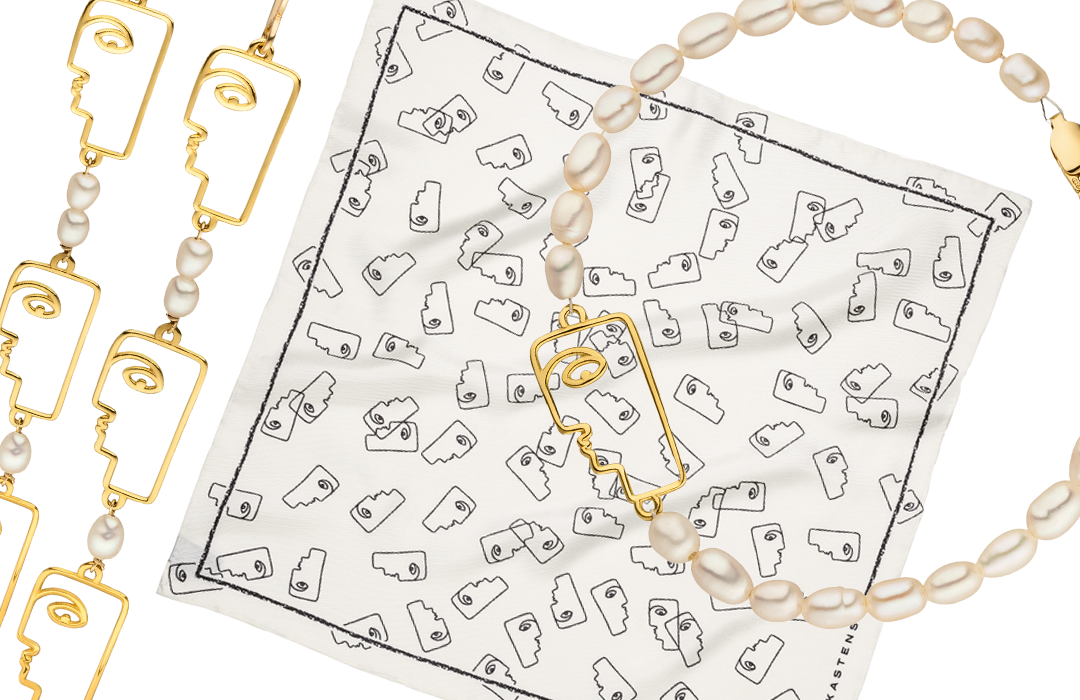 Beim Stichwort Perlenschmuck kommen uns wohl eher traditionelle Assoziationen wie Omas Schmuckschatulle oder Coco Chanels Perlenketten in den Sinn. Doch bald werden wir bei diesem Stichwort auch an einen anderen Namen denken: Nina Kastens. Mit ihrer Schmuckkollektion Mini Face verhilft die Designerin dem leicht angestaubten Image des Perlenschmucks zu neuem Glanz.
Mini Face by Nina Kastens
Bei dieser Capsule Collection werden zeitlose Süßwasserperlen zu Ketten und Armbändern aufgereiht und mit einer modernen, geometrischen Form – dem Mini Face – aufgewertet. Dabei ist diese Kollektion eine Weiterentwicklung und Miniaturform ihres ursprünglichen Designs The Face. Der The Face-Print findet sich auch auf dem Seidentuch – einer ausgefallenen Ergänzung der Schmuckkollektion – wieder. Unser Tipp: Das Tuch aus hundert Prozent Seide einfach lässig um das Handgelenk binden, statt es um den Hals zu tragen. Dieser kleine Styling-Twist passt perfekt zu der Capsule Collection, die elegant aber auch ein Stück weit arty ist.
Die Capsule Collection ist ab sofort unter www.ninakastens.com
MerkenMerken
MerkenMerken