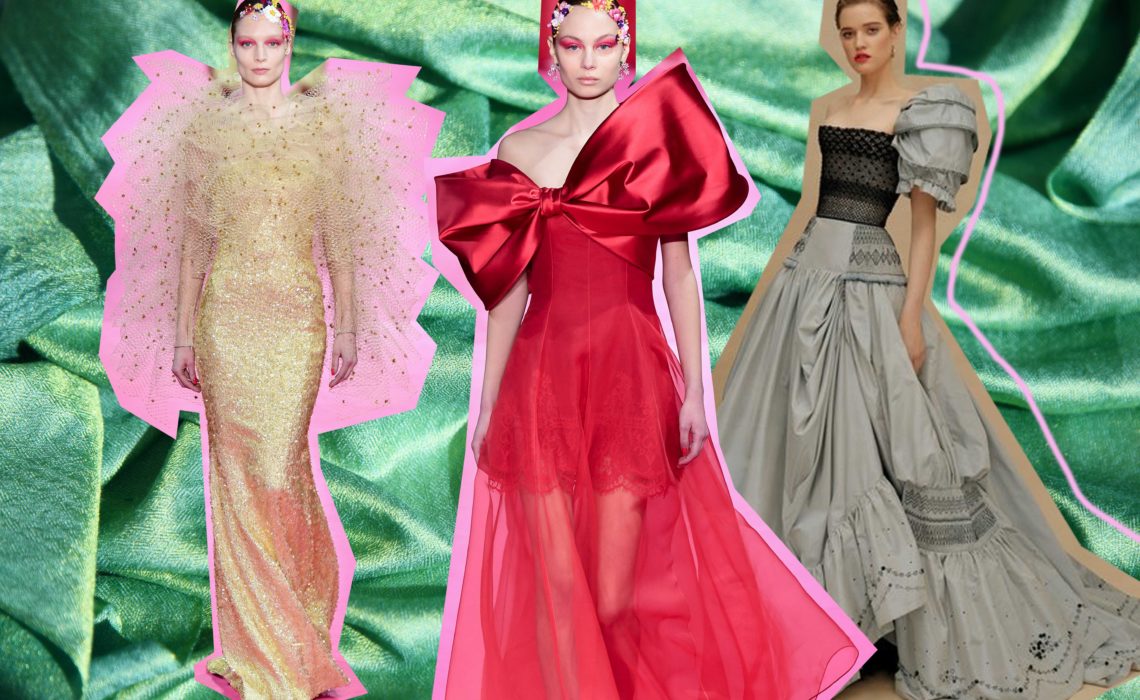 Haute Couture Woche in Paris – eine der Wochen, in denen auf wunderschöne Art und Weise demonstriert wird, was Mode in ihrem Kern ist: Stoff, aus dem Träume gemacht werden. Die zweimal jährlich stattfindende Modewoche ist nicht nur exklusives Modetreffen für RedakteurInnen, EinkäuferInnen, Top-KundInnen und Prominente, sondern vor allem ein Schaulaufen von spektakulären textilen Entwürfen, die ihresgleichen suchen. Couture Baby! Zu den fünf stärksten Momenten geht's hier entlang.

Haute Couture – Stoff, aus dem Träume gemacht sind
Haute Couture – wie der Name bereits verheißt, haftet ihr seit der Einführung um das Ende des 19.Jahrhunderts etwas erhabenes an. Kleider, so spektakulär, dass man zweimal hinschauen MUSS. Applikationen und Details, die in monatelanger Handarbeit hergestellt werden. Models, die elfengleich über die Laufstege schweben, so, als würde man für einen kurzen Moment in den Bann einer anderen Welt gezogen werden… In Zeiten, in denen sich die Branche bemüht, transparenter denn je zu sein – das gilt gleichermaßen für ihre Produktionskette und den Look and Feel einer Marke – entpuppt sich die Woche in Paris stets als ein Symbol gegen die Frivolität, Redundanz und das rasante Tempo, das die Branche im Jahre 2019 charakterisiert.
Couture Baby: Unsere TOP #5 Momente
Iris. Van. Herpen. Der Name der niederländischen Designerin geht wie kaum eine zweiter mit spektakulärem, innovativen und bisweilen bahnbrechendem Design einher. Für ihre jüngst präsentierte Kollektion erschuf sie fließend-schwebende Kleider mit verblüffendem Trompe L'Oeil-effekt – atemberaubend schön!
---
Die erste Menswear-Kollektion von Heidi Slimane für das französische Modehaus Celine wurde so kritisch wie hoffnungsvoll erwartet. Eigentlich gehört sie auch gar nicht zum Schauenplan der Haute Couture, aber da die Termine von Menswear und Couture eng beieinander liegen und die Grenzen von Modekategorien und Geschlechtern sowieso, können wir dieses Beispiel keineswegs unerwähnt lassen. Der Presseecho in Kürze: "Das ist der Mann von morgen!" – also Männer, gut hinsehen!
---
Auch in Zeiten von Instagram und seiner immerwährenden Bilderflut gibt es sie – die Bilder, bei deren Anblick man unweigerlich innehält. Geschehen bei jedem einzelnen Look der Viktor&Rolf-Show, die das 'Statement-Dress' kurzerhand auf ein neues Level erhoben hat. Die Botschaften reichten von "Less is more" über "Fuck this, I'm going to Paris" bis hin zu "No photos, please"– herrlich aussagekräftig, herrlich ironisch, herrlich 'fashion'.
---
Ein Hochzeitkleid gefällig? Chanel hätte da etwas im Angebot. Etwas knapp geraten, aber nicht minder spektakulär, funkelnd und aufsehenerregend. Bei den eisigen Außentemperaturen in Paris lud die Riege rund um Karl Lagerfeld im Grand Palais in ein wie immer aufwändiges, sommerlich-wohliges Ambiete. Selbiger heizte mit seiner Abwesenheit im Anschluss an die Show übrigens die Gerüchte um seinen allmählichen Rücktritt als Kreativdirektor des Hauses an. We will see.
---
"Schau mir in die Augen, Kleines". Bei Valentino braucht man darauf nicht zweimal hinzuweisen. Neben einer hinreißenden Kollektion wartete das Modehaus mit spektakulären Federapplikationen um die Augen der Models auf, die die ätherische Schönheit des Defilees hervorragend abgerundet haben – zum Träumen schön!