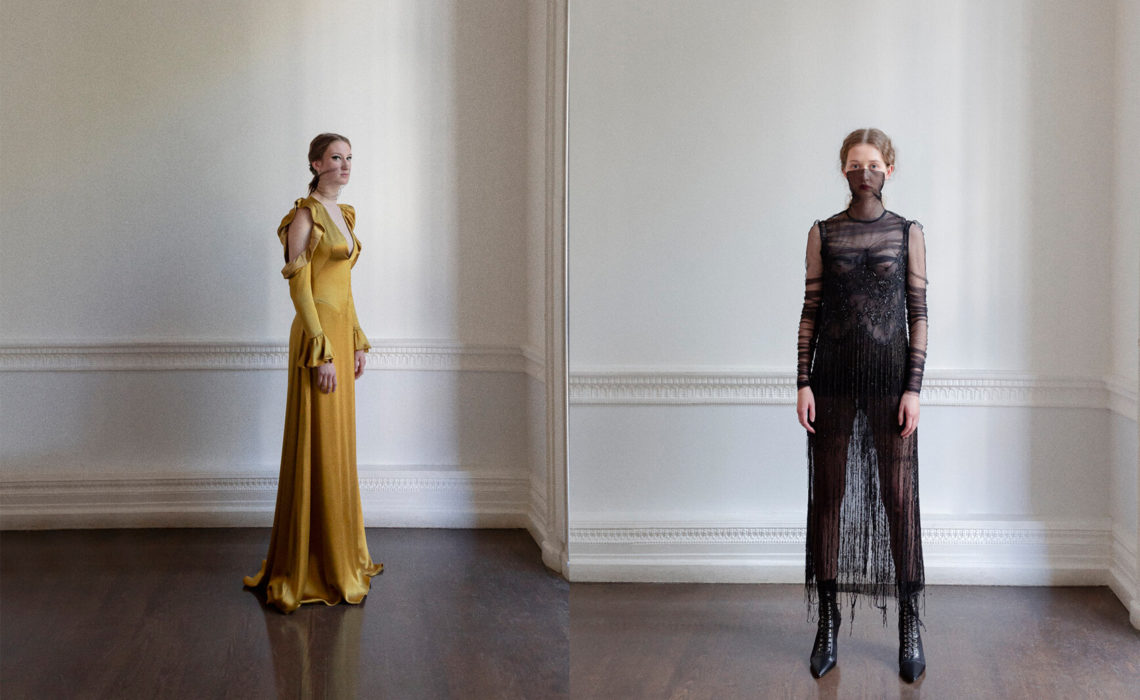 Der perfekte Ort für einen Kurztrip im Spätherbst. Während es bei uns bereits fröstelt, zieht es durch die sommerlichen Temperaturen viele Touristen auf die kleine Insel am Mittelmeer – nicht zuletzt wegen ihrer geschichtsträchtigen Plätze und atemberaubenden Natur. Wer sich in Sachen Kultur (abgesehen von einem Pflichtbesuch bei den Schauplätzen des Serien-Epos 'Game of Thrones') inspirieren lassen möchte, findet auch Mode aus Malta, die trotz oder gerade wegen ihrer mediterranen Einflüsse begeistert. 
Charles & Ron
Die maltesische Kultur als wichtiger Bestandteil der Design Ästhetik – Charles & Ron gestalten moderne Styles mit mediterranem Flair. Die beiden Gründer lernten sich in den 90er Jahren in den Niederlanden kennen und lieben. Während sich Charles als Autodidakt um das Design und die Produktion des gemeinsamen Labels kümmert, übernimmt Ron den wirtschaftlichen Part des Unternehmens. Seit 2014 zeigen die beiden ihre Kollektionen während der New Yorker und L.A. Fashion Week. Die aktuelle Kollektion mit Elementen aus Seide, Chiffon und Kunstpelz ist der gemeinsamen Freundin und LGBTQ-Ikone Katja Saunders gewidmet. "Als wir die traurige Nachricht hörten, wussten wir sofort, dass diese Kollektion, ihr zu Ehren gewidmet sein würde und integrierten bei der Gestaltung viele Elemente, die Katya so sehr liebte". 
---
Luke Azzopardi
Die eigene Heimatverbundenheit und Liebe zu Malta zog Kreativdirektor und Gründer der gleichnamigen Marke, Luke Azzopardi, nach seinem Studium an der Central Saint Martins School zurück auf die Insel. In seinem Studio konzentriert sich der maltesische Designer auf die Idee zeitloser Eleganz und bereichert diese mit seinem akademischen Background in Kostümgeschichte. Der Designer sieht seine Arbeit außerhalb der Parameter der Modebranche, die für ihn sehr doch sehr mechanisch funktioniert und positioniert sich gleichzeitig außerhalb des kommerziellen Systems. Für Luke steht die Kunst im Vordergrund, der Luxus, den ein maßgeschneidertes Kleid mit sich bringt. Alles weitere – wie wirtschaftlicher Erfolg – sei nur die Kirsche auf der Torte. 
---
Parascandalo
An der Nordostküste der Insel Malta liegt die kleine Stadt Vittoriosa – dort wurde der maltesische Designer Marco Parascandalo geboren. 2014 präsentierte der Kreativdirektor erstmals seine Debütkollektion 'Skandlu' wärmend der Malta Fashion Week und feierte direkt erste Erfolge. Parascandalo ist auf Malta bekannt für seine tragbaren aber doch provokante Streetwear, in die er maltesische Kultur und politische Statements integriert. Wir feiern in der aktuellen Kollektion besonders das 'Eyconic Tattoo Hoodie Dress', das uns dazu einlädt: 'Cover my eyes and invite me to play'!
Foto: Luke Azzopardi