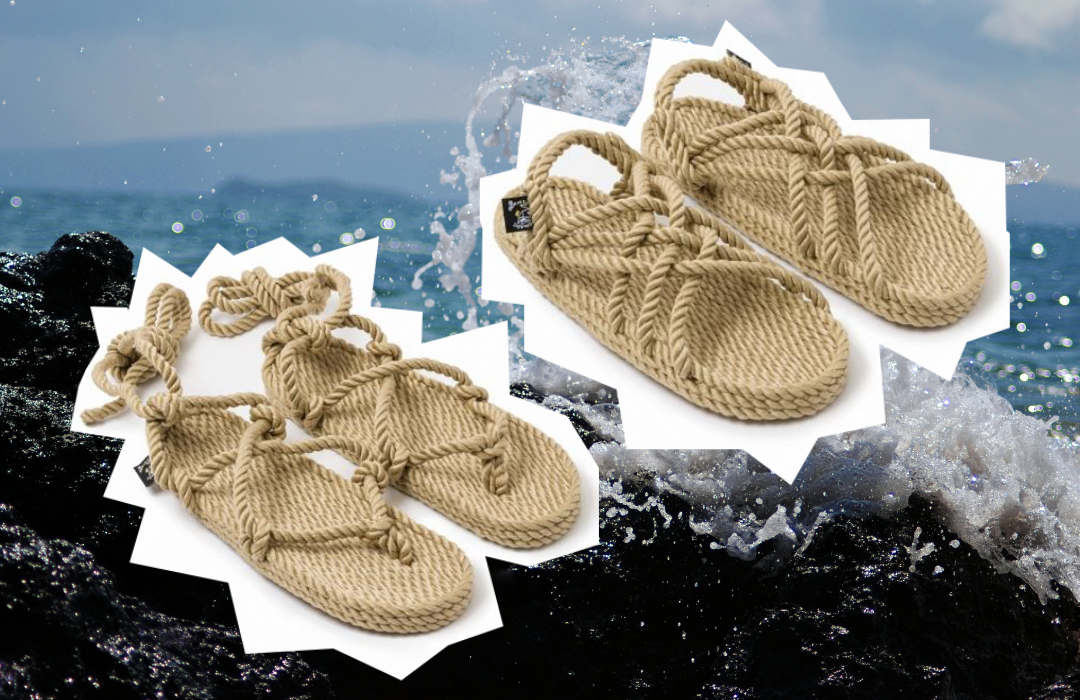 Diese Sandalen sind der Inbegriff maritimer Leichtigkeit und lassen uns nur so davon träumen, auf einem kleinen Boot quer durchs Mittelmeer zu schippern. Die Rede ist von Rope Sandals von Nomadic State of Mind, deren Gewand an klassische  Schiffstaue erinnert. Ankern wollen wir mit diesen Traumschuhen aber ganz bestimmt nicht, sondern einzig und allein die grenzenlose Freiheit des Sommers genießen. Leinen los für unseren Summer Hit 2019!
Label Love: Nomadic State of Mind
Birkenstocks, Flip Flops, Adiletten und Co: It's time to move on, denn diesen Sommer tragen wir ausschließlich die angesagten Rope Sandals der amerikanischen Brand Nomadic State of Mind. Der Name des Labels bedeutet übrigens so viel wie der nomadische Gemütszustand und ganz in diesem Sinne hat Chris Anderson auch sein Unternehmen vor fast 20 Jahren gegründet. Die Sandalen verkaufte er anfangs nämlich stilecht direkt aus dem Kofferraum seines 1969er VW-Busses heraus. Selbstredend, dass der freigeistige Unternehmer damals bereits auf Werte setzte, die heute zunehmend selbstverständlich werden: eine nachhaltige und faire Produktion sowie die Verwendung von rein veganen und recycelten Materialien. Von Beginn an werden seine schnörkellosen Sandalen unter Berücksichtigung sozialer und ökologischer Standards in Nicaragua hergestellt.
Ein Summer Hit für alle Gelegenheiten
Kein Wunder also, dass Nomadic State of Mind derzeit den Hype erlebt, den die Brand verdient. Denn ähnlich wie das französische Sneakerlabel Veja verbindet sie den Ruf nach Ethik und Ästhetik perfekt. Einen zusätzlichen Push haben die Rope Sandals insbesondere auch von einer ganz bestimmten Plattform erhalten: Instagram. (Surprise) Dort tauchten sie vor ein paar Jahren zum ersten Mal an Bloggerinnen wie Elin Kling oder Meriç Küçük auf, deren cleane, hochwertige Looks dank der Sandalen eine extra Portion Lässigkeit erfahren. Doch nicht nur das: Die Schuhe sind überdies ein Sinnbild unseres dynamischen, abwechslungsreichen Lebensstils, bei dem Flexibilität stets das höchste Gebot ist. Ähnlich dem allseits beliebten Sneaker kann man die Rope Sandals nämlich zu allen Gelegenheiten tragen. Ganz egal, ob edles Sommerkleid oder Jeans und T-Shirt.