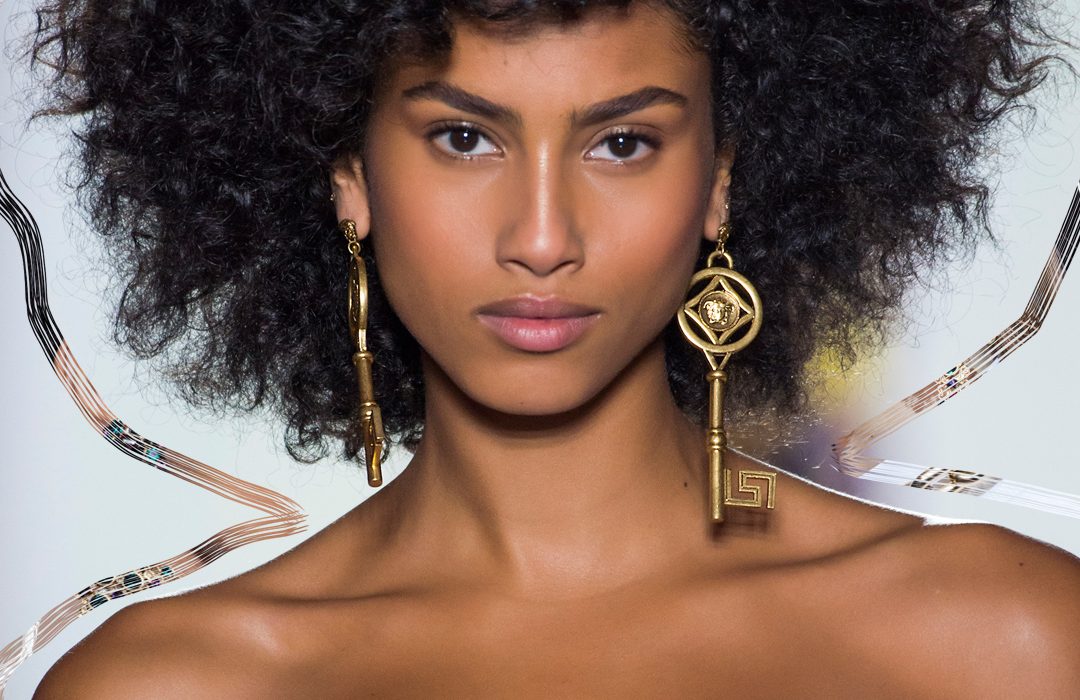 Foto: Versace HW18, Imaxtree
Wer behauptet der Mode fehle es an Extravaganz, der hat die aktuellen Schmucktrends nicht gesehen. Schließlich haben die jüngsten Schauen der Fashion Weeks zur Herbst/Winter-Saison 2018 abermals bewiesen, dass bescheidener Minimalismus dieses Jahr eine kleine Pause einlegt. Wir haben die größten Trends zusammengefasst und verraten, wie man die auffälligen Accessoires im Alltag tragen kann.
UNGLEICHES PAAR
Statement-Ohrringe umrahmen schon seit längerem unsere Gesichter. Nun wird es Zeit für den nächsten Schritt: Asymmetrie. Häuser wie Dior, Jacquemus, Chanel und Burberry haben es vorgemacht und schickten ihre Models im vermeintlichen Mono-Ohrring-Look über den Runway. Gerade, wenn die Schultern frei sind, kommt der asymmetrische Style am besten zur Geltung. Wer sich noch nicht sicher ist, diesen Trend auf der Straße zu tragen, sollte die Haare offen tragen. Dann fällt es nicht so sehr auf. Für modemutige gibt es den Pixiecut oder Sleek-Zopf in Kombination mit ungleich großen Ohrringen.
Zu den größten Schmucktrends zählt in diesem Jahr nach wie vor the bigger the better. So geben sich beispielsweise Versace mit seinen langen Quasten oder Marni mit überlangen Federohrringen in XXL-Manier. Saint Laurent ging ebenfalls weit über die Schultern hinaus und Missoni setzt mit seinen handflächengroßen Ethno-Pieces auf besonders starke Ohrläppchen. Jenseits der Catwalk-Pfade kann ein farbenfrohes Paar Mega-Ohrringe simple Everyday-Outfits upgraden.
CHAIN, CHAIN, CHAIN!
Die Faustregel lautete bisher: entweder …oder. Soll heißen: entweder große Ohrringe oder eine große Kette. Solch alteingesessenen Mantras gehören jedoch unlängst der Vergangenheit an und wir wollen dieses Jahr klotzen, statt kleckern. Die Königsklasse, wie man diesen Trend umsetzt, beherrschen sowohl Dolce & Gabbana sowie Gucci in perfekter Manier. Ihr glitzernder Strass-Overload steht für Prunk und Protz wie wir ihn heutzutage selten sehen. Aber: Die Gratwanderung zwischen Kitsch und Kunst ist hier sehr schmal. Daher sollte man sich vorsichtig an diesen Look herantasten und es vielleicht einem Marni gleichtun. Level 1 lautet daher: auffällige Kette plus semi-auffällige Ohrringe. Wem das nicht reicht, kann es wie Model Hailey Baldwin machen und auffällige Armbänder dazu tragen. Als eine Art Gleichgewicht.