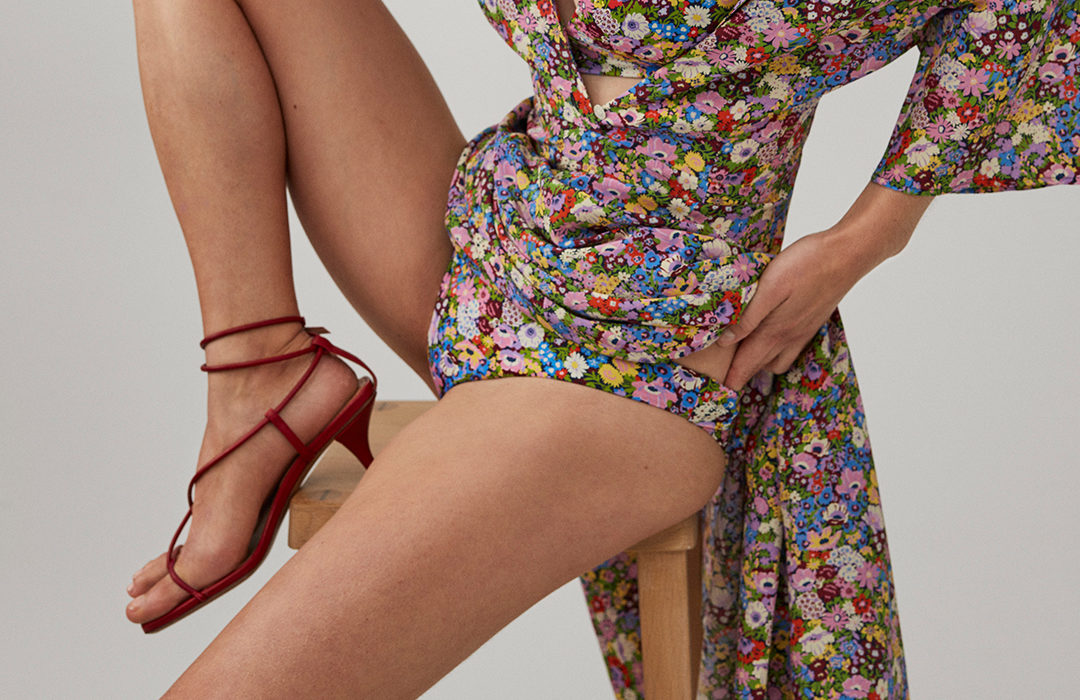 Zart, zarter, Zahnseide. Das müssen sich zumindest einige der Designer für ihre Schuhkreationen für Frühjahr/Sommer 2019 gedacht haben, denn wenn wir dieses Jahr – neben Fashion Sneakern – eine Schuhart besonders lieben werden, dann sind es delikate Riemchen Heels, auch als Floss Heels bekannt, denn 'floss' ist Englisch für Zahnseide. 
Floss it!
Natürlich denken viele gleich an Sommervibe-King Jacquemus. Der Meister der mediterranen Modekunst setzt auch zum FS19 die Füße der Damen in Szene und umspielt nicht nur Fuß und Fußgelenk, sondern auch die Waden eleganter Wunder-Amazonen in Szene. Der charakteristisch verspielt, architektonische Absatz darf dabei natürlich nicht fehlen. Ähnliches zeigte auch das Londoner Label Rejina Pyo für FS19, allerdings setzt die Absatzhöhe der Riemchen Heels hier mehr auf moderate 5cm und zitiert eine elegante Kittenheels-Ästhetik aus den 60er-, aber auch 90er-Jahren.
To-do's für Riemchen Heels
Regel Nummer eins, die keineswegs gebrochen werden sollte: Pediküre! Der Floss Heel Trend ist sozusagen ein nackter Fuß Trend. Unschöne Hornhaut, abgesplitterter Nagellack oder ungepflegte Nägel können nirgends versteckt werden, also heißt es ab sofort: Mit steigenden Temperaturen auch schön regelmäßig die Füße pflegen.
Der Look hingegen, ist etwas ganz anderes. Hier können wir uns austoben. Wer es lässig oder alltäglich mag, findet in jeder Jeans den perfekten Stylingpartner. Das Outfit of the Day-Barometer steigt mit der Weite des Schnitts, denn vor allem coole Mom-Jeans oder gar Baggies sind ein absoluter Hingucker für Riemchen Heels. Der Clou ist nämlich der Bruch: derb trifft zart! Aber sie wären wohl kaum unsere Favoriten für dieses Jahr, wenn sie so vielseitig einsetzbar wären: Feminine Looks und weich fließende Materialien, die das Bein umspielen – egal ob Kleid, Rock oder Culotte –  sind der Wow-Overkill für den Sommer und garantieren ein Wow-Feeling.
Aber es geht nicht nur cool oder sweet, sondern auch tough. Mit Skinny Hosen in Metallic oder Black, scharf geschnittenen Blazern und oversized Blusen werden die Floss Heels zum Kate Moss'schen Businesslook, der in und out of office beneidenswert gut funktioniert. 
Ihr seht: Zarte Riemchen braucht der Schrank!